Well, eventually the 2021 CPS Northern Rallysprint series got underway last week with the Bothwell Loop Road Rallysprint, situated just south of Glenn Murry in the Northern Waikato this ex WRC road offered around 7.5 k's of stunning, smooth and very varied gravel road. Hosted by the Pukekohe Car Club it attracted a very healthy field of 43 starters.
Once the formalities were all sorted and the recee completed the action was underway, and what a stunning outcome on the first run, with two class A cars in the top 16. Mark Bradly was the top 2wd car in his Datsun 1200, Justin Glavish also pushed his 1300 starlet into the top 16. Bradlys effort was again repeated on the second run for the top eight, coming in 8th quickest of the whole field. Glavish had a slight off on run 2 but regained his composure to regain his pace and once sorted and went on to have a ding dong battle with Bradly for the class A honours, eventually taking the class win from Bradly.
Mike Goldsbury made a rare appearance in the series, and as always dominated the class B in his DX corolla although Don Needham gave the chase a good go in his recently acquired starlet, needless to say Needham's  going to improve with more mileage under his belt.
Class C is looking like a very, very competitive class and one with quite a few registrations, so any mistakes or missed rounds in this class and its really going to hurt. Anyone who follows this series knows of the caliber of Charlie Evans and Grant Liston, both vastly experienced and pretty quick. But Jordan Grant and Anthony Te Rito are two young guns proving that they also have plenty of pace, then throw in Colin Gibson, Chris Ramsey and a past New Zealand national champion in stumpy Holmes and this is without doubt a very competitive class. Today it was Charlie Evans that prevailed to take the win….but only just.
Class D was taken by Dave Strong in his RWD Honda Jazz, a very interesting project that's still going through its development, but knowing how competitive Strong is im sure, that combined with his engineering skills he will be the one to chase in this class as the season unfolds.
Glass G was taken by new comer to the series in Chris Lockyear, from Hamilton. Unfortunately with no one to challenge him at the moment he's going to have to compare himself and his times to the open 4wd class, fingers crossed that we have a few more registrations for this class at round 2.
The 2wd classic class had quite a few registered drivers at this round, let's hope it continues for the rest of the season. This round saw Anthony Jones dominate in his Escort BDA, but it's good to see the return of Barry Gibbs and his MK2 to the series. Rodney Atchinson added some true classic nostalgia to this round with his Chevy Corvair powered VW Beetle, add in Craig Tickles BMW 2002, Colin Coles lancer GSR, Brian Bests Rover powered V8 and Mark Baldwins 1600 pushrod MK2 and what a great little class, let's hope it continues.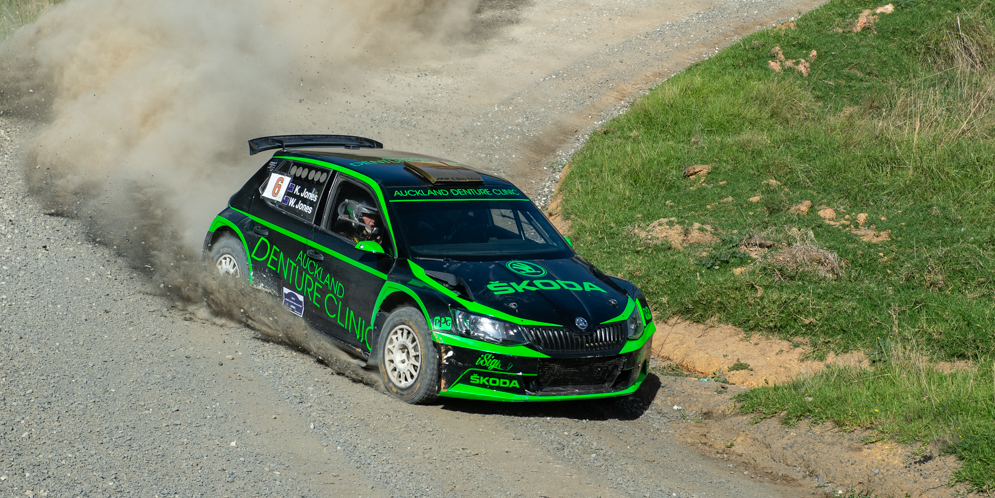 Above: Event winner Kingsley & Waverly Jones, Photo: Jason Byrne of " A little Bit Sideways".
Now, last but not least, the big boys class, apologies to Emma Gilmour but I'm sure you'll know what I mean. It Was Kingsley Jones who took the overall win in his Skoda fabia, but not before a huge battle with Ben Thomasen in his WRX, the Subaru driver actually being the quickest on the first four runs before Jones dealt the deadly blow in the top two run off, producing the fastest time of the day with a 05:23.80, beating Thomasen by just under a second. Hayden MacKenzie continued as he finished last season, very fast! He collected 3rd overall with Emma Gilmour 4th and Adam Bligh rounding off the top 5.
As usual a great little event run by the Pukekohe Car Club, the unusual circumstances of how the season has unfolded, due mainly to the covid situations must have added a little unwanted and anxious moments in the build up to the event, they need not have worried, the event was a cracker.
Bring on round 2, the South Auckland Car Clubs James Allan memorial Rallysprint on the 28th March. Check out their website for more details.