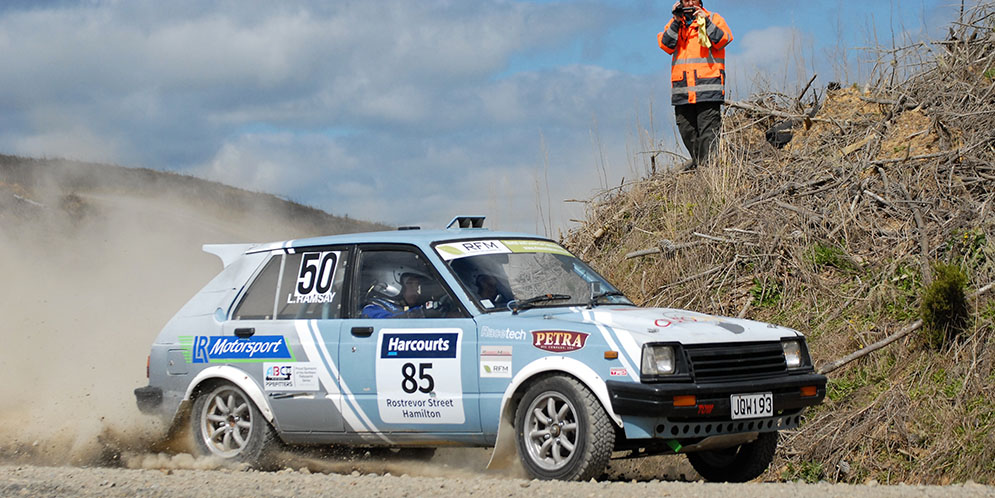 Well, it feels like a long time between drinks so I thought I'd put up an update prior to this next round.
Firstly I'd like to congratulate Stephen Barker on his two victories on the last two rounds, although he's not registered to the series they were two great drives. Full reports and pictures will be in the next edition of a little bit sideways, due out next week.
Things are really hotting up at the top of the leader board, with the next two rounds promising plenty of excitement and drama. This weekend's round at Maramarua will be based at the headquarters, it's the same venue as last year, it's using the same road but it will be in reverse direction from last year's run. If you were present at last year's event you will remember that the forest had been recently felled, thus giving a totally different appearance, you could now see those drops that you've never seen before! Brilliant as a spectator as the views were awesome. The stage is approximately 8k long with the same for touring.
Entries are still open and will be until 5.00pm on Thursday evening.
Dave Strong has a two point lead over the current champion Graham Featherstone, with Bevan Wilson lying in third, he's a few points adrift but as we all know, anything can happen in motorsport and he's in a great position should Strong or Feathers have any problems.
Moving on a little, the Hamilton Car Club are well under way with the preparations for their round, and the last one of the 2019 series. Hoddle Road, It is a new venue for this series and promises to be a cracker with a 10k stage and only about 4k of touring, using the local KioKio rugby club during the day, and for prize giving so facilities should be great. Breakfast will be available, as will food all day, including prize giving. For those wanting accommodation the venue is close to Otorohanga travelling from the South and Te Awamutu from the North, Hamilton is 45 mins away, and Waitomo has some great self-contained cabins at the holiday park with a pub and pizza's across the road, also plenty of parking for rally crews ….sounds good to me. Sunday 28th July, regs should be out next week.
See you all at Maramarua.