Northern Rally Sprint Series Rules – 2021
Every competitor shall have a minimum clubsport rally licence and belong to a MSNZ affiliated car club. As per Motor-Sport Manual.
Every series registered competitor's car will be eligible under schedule R of the MSNZ book.
Every competitor, along with their crew shall drive and act in a sportsman-like manner and shall not bring the event and the sport into ill disrepute.
After documentation, but prior to the event starting, a drivers briefing will take place by the organising club, explaining the detail and process of the event.
After the drivers' briefing, one reconnaissance run over the course for familiarisation and pace notes will take place. This may be done in the competition car, or road car.
There will be 6 classes for the 2019 rallysprint series, they are…
A: 0-1300cc
B: 1301-1600cc
C: 1601-2000cc
D: 2001 & over
E: 4WD
H: Classics……..see "classic rules"
G: 4wd Classics……see below.
Every competitor will fit into one of the above. There is also a class for overall, as well as the above.
Co Drivers Championship:
This was introduced a couple of  season's ago and due to its popularity & support from "Suspension Tech" it will be running again. All co drivers must register and pay the registration fee as per registration form to gain points.
Each co driver must compete with their registered driver to gain points.
Each co driver must complete at least three of the four runs, and should the driver make the top two run off then the registered co driver must complete this run to gain points.
Points allocations will be the same as the drivers allocations.
Pace Notes:
Pace notes will be provided FREE of charge from NEIL ALLPORT MOTORSPORT.
However we do need competitors to acknowledge that they do require them prior to the events….more details to follow.
Class G 4wd Classics: This was another trail class, new to the series for 2017 and was simply aimed at the older 4wd vehicles to allow their drivers a more competitive series. However, it is running again in 2019 as class G.
So this class will cater for 4WD pre 1996 (2000cc maximim engine capacity) this falls in line with the same class that the national rally championship runs
All competitors are eligible for trophies on the day, but only registered competitors are eligible for the series championship points and series trophies.
In order to be eligible to score points in the series competitors must register, have paid the registration fee, and display sponsors decals, one either side of vehicle.
A competitors registration will only be valid once they have filled in their series registration form and paid the series registration fee. The fee for 2019 will be $20 per driver, same applies for the co drivers.
No registrations will be accepted after round 3. As we are running 6 rounds and this is mid way, we thought under the "sportsmanship" tag that to avoid people registering late and taking points from guys who have been with us from the early stages that this is a reasonable addition to these rules.
Points for the series are
Class
1st                  12pts
2nd                10pts
3rd                9pts
4th                8pts
5th                7pts
6th                6pts
7th                5pts
8th                4pts
9th                3pts
10th              2pts
11th & from here down 1pt.
Overall positions
1st                 60pts
2nd                59pts
3rd                58pts
4th                57pts
5th                56pts….and so on down to 1pt.
The "Club Trophy" will also be up for grabs again, no need to register as points for this are automatically allocated.
A competitor may enter a class in a smaller capacity car, but not with a larger capacity car. 4wd cars can only enter the 4wd class.
When registering for the series it's the competitor who is registered, and therefore they can run in whatever vehicle they wish (as long as it complies with Motor-Sport regulations) but can only score class points for whatever class the vehicle fits into.
For example if a competitor runs an escort in class B, he scores points in that class; if at the next round the car is fitted with a 2ltr, then he scores points in class C. He will automatically score points for overall, presuming they are registered.
The event will be a process of elimination and will consist of 4 timed runs, plus a final "top two" from each class run off, and overall.
The first run will determine the top 16 class, and overall qualifiers for the next run.
Run 2 will determine the top 8.
Run 3 will determine the top 4.
Run 4 will determine the 2 finalists
                Run 5 " Top two " run off for overall and class positions.
11.   For the purpose of allowing the event to flow, meet road closure cut offs, and run safely the competitors must try to run in numerical order. The onus is on the competitor to arrive at the start            on time.
12.  Jump Starts will incur a penalty of 20 seconds, as per rally rules. This penalty is at the discretion of the organisers.
13. Cars are eligible for positions and points as soon as they cross the start line. A DNF will supercede a DNS: if 2 or more competitors fail to finish a run, the result will be determined by the                   previous run
14.   A car must complete the entire run under its own motive power to be eligible for points on the following runs.If the event is shortened by unforeseen circumstances, the results are                                determined by the last completed run.
15.   If the event is to be shortened for other reasons, prior to any runs, or competition such as bad weather, road deterioration etc, etc then the organisers must inform the competitors of the                    decision prior to the next run. Rule 13 will still apply.
16.   If there are 5 or more rounds in the series, the registered competitors must drop 1 round's score in the series for class and overall points..
17.   If a competitor is eligible for a prize, and is unable to attend prize giving, then as a matter of courtesy a stand in should be organized to collect trophies.
            Classic 2WD rules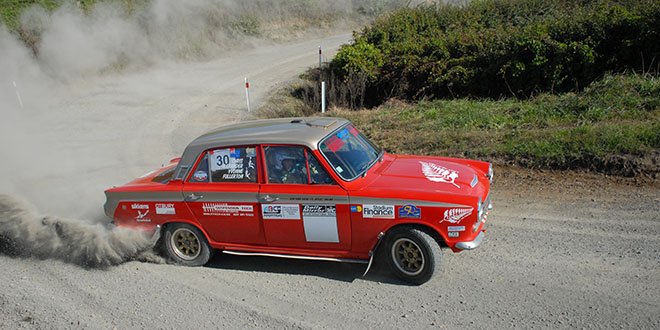 Competing vehicles shall be 2wd and constructed prior to 31st December 1986. 4wd classic will have their own class for 2018 (see above rules)
Competitors should note that allowable modifications to vehicles differ according to the age of the vehicle as outlined below.
The organisers reserve the right to include additional vehicles (that fall outside this eligibility criteria) into the field if satisfied that the car/driver combination is in keeping with the spirit of the event.
Subject to the above competing vehicles shall comply with the following provisions.
(a) Be in compliance with the provisions of FIA appendix K with respect to international historic rallies
OR
(b) Be in compliance with motorsport NZ schedule RH
OR
(c) Vehicles that were in series production prior to 31st December 1982 modified in accordance with the provisions of clauses to C8 below:C1…Engines.
The engine may be substituted to that from another manufacturer but must be an engine that was available prior to 31st December 1982.
The engine block and number of cams must be as per the original or substituted engine.
Pistons, connecting rods, crankshaft and associated parts are free.EXPLANATORY NOTES
This provision allows for…say…the transplant of a V8 into an Escort provided that the V8 was obtainable prior to January 1982 and retains its original block and number of camshafts. It can however, have modern pistons.C2…Induction.
Forced induction is not allowed unless standard on the vehicle at the time of manufacture ie, A turbocharged or supercharged engine may not be transplanted into another make or model of car. A computer may not be added to a car that did not originally have one.
Intercoolers are only allowed if standard on the vehicle or homologated. Antilag and boost control is prohibited.C3…Fuel injection.
Fuel injection is not allowed unless standard on the vehicle prior to 1st January 1982. The vehicle must retain its original system, i.e. an injection motor cannot be transplanted into another make or model of car. An electronic system may not be substituted for a mechanical system.C4… Gearbox.
The gearbox may be substituted for one from another manufacturer. A maximum of five forward gears are permitted. Ratios are free. Sequential and electronically activated gearboxes are prohibited.C5….Differential.
The differential may be substituted.C6….Brakes and suspension
Brakes and suspension are free, however vehicles originally constructed with live rear axles must retain a live rear axle.C7….Wheels and tyres.
Wheel sizes are free provided they can be housed inside the wheel arches or flares (ref 8.3) Tyres are free but must comply with the provision of appendix 2.schedule A.C8….Body Modifications
C8. 1. Preamble: competitors are strongly encouraged to maintain the original appearance of their vehicle
C8. 2…Body panels: May be lightened in accordance with Appendix 2, Schedule A. However carbon fibre and kevlar are prohibited.
C8. 3…Wheel Flares: May be fitted providing they do not protrude from the original line of body work by more than 150mm.
C8. 4….Wings: Wings or other aerodynamic appendages are not permitted. "Bobtail" or boot mounted spoilers are acceptable if it can be shown that these were common on the car as rallied prior to 1st January 1982.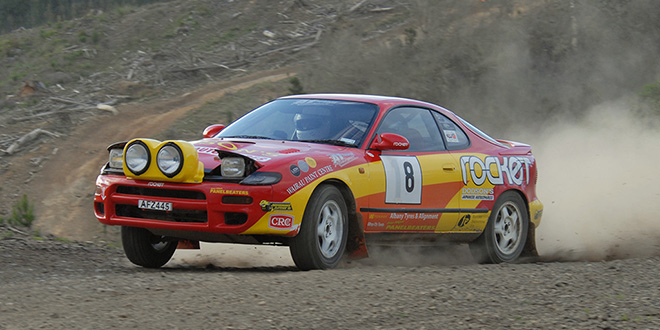 4WD Classic Rules
VEHICLE ELIGIBILITY
The classes aim is to promote and encourage, competitors from all regions, to participate in a series with an enjoyable and relaxed competition in the spirit of motor sport in period PRE-95 GROUP A 4WD TYPE CARS.
It will be the competitors' responsibility to ensure that their car is the correct as per the rules above

All vehicles must comply with the specifications set out in the current MotorSport Manual Appendix Two, Schedule A and must be entered in Category 5C of the New Zealand Rally Championship.
Vehicles must be series production Four Wheel Drive (4WD) saloon of a Make and Model first produced before 31 December 1994.
Vehicles must retain the original silhouette of the production car and fiberglass panels are allowed. Cars may not use carbon or kevlar body panels.
Vehicles must retain the original make and model of engine cylinder block and no variable valve timing cylinder heads.
The engine size must be a maximum of 2000cc with the manufactures original bore and stroke dimensions respected – other engine sizes with the manufactures original bore and stroke dimensions will be accepted if they are proven [by the entrant] to match the body-shell, which was first produced before 31 December 1994.
The vehicle must retain the original suspension mounting points and suspension type.
The gearbox must retain the original type of selection method (i.e. H-pattern and NO sequential gear shifts) and have a maximum of 6 (six) forward gears. The type of engagement and gear ratios are not controlled.
Electrically controlled/variable centre-diffs are allowed.